All producers of fire extinguishers are obliged to follow European Norm EN 3-7, which defines all qualifications and also fire classes A, B or C.
On the label of each extinguisher you will find the most important information about the fire group, which can be extinguished by using a certain extinguisher.
Types of fire
Class A fire – solid bodies often made of wood, papers, textiles, plastics, coal. Objects which glow when burning.
Class B fire – flammable liquids and materials which could be liquefied eg. Petrol, paraffin, oils, paints.
Class C fire – gases eg. Propane, hydrogen, butane.
Moreover, each fire class must be defined also with fire rating, which shows the size of fire to be extinguished.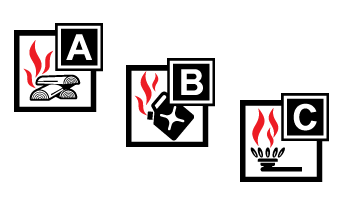 PRODUCT SAFETY
All our extinguishers are produced according to quality system ISO 9001 and are certified with PED and EN 3-7 norm.